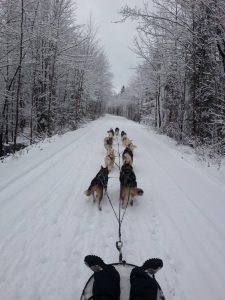 About: This tour, while still suitable for beginners, is designed for our more adventurous guests who want additional "ride time" and last approximately 3 hours from start to finish.
Educational Component: Guests will spend 30-40 minutes meeting and greeting sled dogs and preparing their sled(s) with their musher, which involves harnessing and hitching their team, etc.
The Ride: Once the sled(s) is prepared, guests will hit the trails for approximately 2 hours!
Treats: We always leave some time at the end for guests to get photos with the sled dogs and "tip" them with dog treats for a job well done (just don't feed the mushers).
Availability: This tour departs most Tuesdays – Sundays starting in early January and goes until the end of March (trail conditions permitting). There are a few holiday and vacation week exceptions. This tour departs at 9:30am. Reservations are required.
Cost:
$400 per standard sled (2 guests/340lbs)

$445 per 3 person sled (3 guests/340lbs)
Please Note: While we are typically on winter sleds from the end of December until mid-March, your musher may use a rolling dog sleds to conduct your tour if trail conditions permit. Refunds WILL NOT be issued in the event that trail conditions require use of a rolling dog sled.