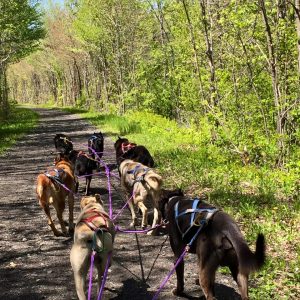 About: This springtime adventure last approximately 1.5 – 2 hours and is perfect for those looking to come out of hibernation and enjoy the wonderful world of dog sledding. 
Educational Component: Guests will spend 30-40 minutes meeting and greeting sled dogs and helping their musher prepare the rolling dog sled which involves harnessing and hitching the team etc. 
The Ride: Guests will enjoy a ride that last approximately 50 minutes.
Treats: At the end of your experience, you can thank your team and "tip" them with dog cookies (just don't feed the mushers). 
Availability: This tour is typically available throughout the month of May (weather and trail conditions permitting).
Cost:
$100 per person ages 13+

$80 per person ages 2-12