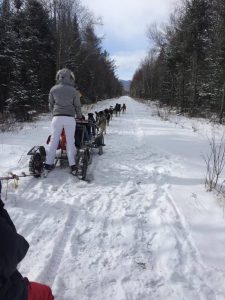 About: What better way to get into the howliday spirit then with a festive dog sledding adventure! This pre-season dog sledding experience last about 1.5 – 2 hours and is the perfect way for those ages 2+ to enjoy the first snowflakes of winter.
Educational Component: On this trip guests will spend 30-40 minutes meeting and greeting sled dogs and helping their musher prepare the team.
The Ride: Once the doggies are ready, guests and their musher will then hit the trails and embark on a ride that last approximately 50 minutes (ride time varies based on trail conditions, weights of participants, etc.). The musher makes scenic stops along the ride so guests can soak in the views and have plenty of photo opportunities.
Treats: At the end of the experience guests can thank their team and "tip" them with cookies (just don't feed the mushers).
Availability: This tour is available for a limited time only – 12/1/16 – 12/11/16! This tour departs at 9:30am, 12:00pm or 3:00pm.
Cost:
$100 for those ages 13+

$80 for those ages 2 – 12
Please Note: That the mushers will most likely use a rolling dog sled to conduct this adventure, however if the trail conditions permit they may also use a traditional sled.