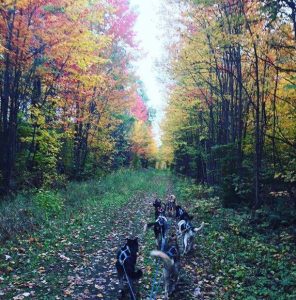 About: Experience the beautiful colors of fall up close and personal during this interactive 2 hour adventure.  
Education Component: Guests will spend 30 – 40 minutes meeting and greeting sled dogs and preparing their rolling dog sled which involves harnessing and hitching the team etc.
The Ride: Once the cart is prepared, guests will embark on a ride that last approximately 50 minutes. The mushers make scenic stops along the ride so guests can soak in views and have plenty of photo opportunities.
Treats: At the end of the experience guests can thank their team and "tip" them with dog cookies (just don't feed the mushers).
Availability: This tour is typically available mid-September until the end of November. This tour departs daily at 9:30am, 12:00pm and 3:00pm by reservation. 
Cost:
$100 for adults ages 13+

$80 for children ages 2-12