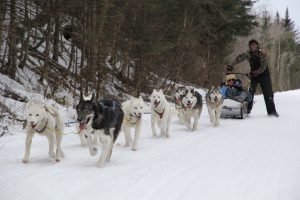 Fido's Favorite – Our Most Popular Adventure!
About: This is an introductory dog sledding adventure that last approximately 1.5 hours and is open to those ages 2+.
Educational Component: Guests will spend 30 minutes or so meeting and greeting the sled dogs and helping their musher(s) prepare the sled(s).
The Ride: Once the sled is prepared, guests will embark on a 5 mile/45 minute ride (ride time may vary based on: the weights of the participants, trail conditions and the doggies pulling the sled).
Treats: The mushers try to leave 10-15 minutes at the end for guests say thank you to the sled dogs by giving out belly rubs and treats! 
Availability: This tour departs most Tuesdays – Sundays starting December 15th and goes until mid-March (trail conditions permitting). There are a few holiday and vacation week exceptions. This tour departs at 9:30, 11:30, 2:00 & 4:00 by reservation (please note that the 4:00 tour starts in the daylight and ends at dusk when it gets dark).
Costs:
$325 per standard sled (2 guests/340lbs weight limit)

$350 per 3 person sled (3 guests/340lbs weight limit)

$350 per extended team (2 guests/400lbs weight limit)
Please Note: that while we are typically on toboggan sleds from the end of December until mid-March, your musher may use a rolling dog sled to conduct your tour if required by the trail conditions. Refunds WILL NOT be issued in the event that trail conditions require use of a rolling dog sled.