Here at New Hampshire Sled Dog Rescue History & Education Center we are always open to donations, especially when you are taking care of over 70 dogs, the thought of another trip to the store for things like trash bags can get expensive quickly. There are a few different ways donations can be made all which are much appreciated by our two and four legged friends.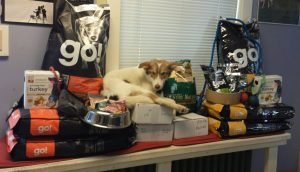 Amazon Smile!
Amazon Smile has really helped our rescue and it is sometimes the greatest way because your donation comes from shopping for things you are already planning on buying online at no extra charge!! If you are an avid Amazon user (we here in the north country must use it for many things), you can create your same account through Amazon Smile and every eligible purchase made, Amazon will donate a portion of your purchase to the non-profit organization of your choice. By clicking here, you can directly access our Amazon Smile site and get started with your regular shopping today!
Monetary Donations 
Monetary donations are something that we appreciate greatly for the every day things needed when least expected. The cost of care for 70+ dogs can add up quicker than you can even think about it. All monetary donations are used for everything from vet bills and food, to new dog houses if needed and even some trash bags…we do a lot of cleaning everyday. Any amount that is donated to us here at NHSDRHEC is always followed up with a big thank you and an extra howl from all our four leggers in the kennel! Any monetary donations can be made in person when visiting the kennel, by mail to P.O. Box 207 Gorham, NH 03581 or by calling our office at 603-545-4533.
     Other Donations
We do also have a running list on our Amazon Smile site that give an idea of some of the kinds of things we go through frequently here at the kennel. You can order directly from our Amazon Smile site and have the items shipped directly to us! By clicking here, we can take you right to our wish list. If sending donations not directly from our wish list, that might come via UPS or FedEx please mail to 32 Valley Rd. Jefferson, NH 03584.