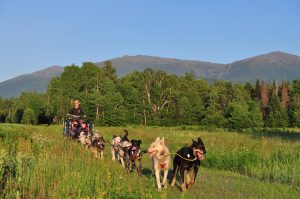 About: Enjoy incredible views of the Presidential Mountain Range and experience dog sledding (without the snow) on this interactive 1.5 hour adventure.
Educational Component: Guests will spend 30 – 40 minutes meeting and greeting the sled dogs, helping the musher harness and hitch the team.
The Ride: Guests will embark on a short 2 mile dog ride that last approximately 20 minutes.
Treats: We always leave time at the end to share treats and reward the sled dogs for a job well done.
Availability: This tour is available daily throughout the late spring, summer and fall by reservation. There are a few holiday and vacation week exceptions. This tour departs at 9:00am, 12:00pm and 3:00pm throughout the spring and fall. This tour departs at 9:00am and 6:30pm from mid-June through early September. Please note that it must be 70 degrees or cooler to conduct this tour for comfort and safety of the sled dogs. In the event it is too warm, you will receive a kennel tour (which is $28 per person) and receive a partial refund. 
Cost:
$55 per person ages 13+

$50 per person ages 2-12