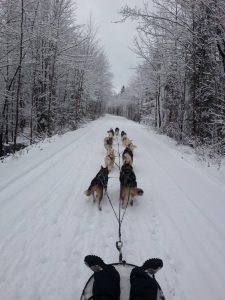 3 Hour Tour – More Trail Time For Adventurous Guests!
FINISHED FOR WINTER 2018
About: This tour, while still suitable for beginners, is designed for those who want additional trail time and last approximately 3 hours from start to finish. Ages 5+ are welcome.
Educational Component: Guests will spend 30 minutes or so meeting and greeting the sled dogs and helping their musher preparing the sled.
The Ride: Once the sled is prepared, guests will hit the trails for approximately 12 miles/2 hours (ride time may vary based on: the weights of the participants, trail conditions and the doggies pulling the sled).
Thank Yous: The mushers always try to leave some time at the end of the tour for guests to say thank you to the sled dogs by giving belly rubs and pats! 
Availability: This tour departs most Tuesdays – Sundays starting January 3rd and goes until mid-March (trail conditions permitting). There are a few holiday and vacation week exceptions. This tour departs at 9:30am. Reservations are required.
Who Can Participate:
We welcome those ages 5+ for this adventure

All participants under the age of 18 must be accompanied by a parent or guardian at all times

Participants who are pregnant

are not

permitted to participate
Participants who have recently sustained an injury or undergone surgery

may no

t participate
Cost:
$425 per standard sled which will accommodate 2 guests/340lbs maximum. 

Guests may add a third rider for an additional $25 fee as long as the 340lbs weight limit is met. Please select the 3 person sled option when making your reservation if this applies to you. Please note that this option is geared toward 2 adults and a small child or 1 adult and 2 small children. 3 adults that meet the weight limit may experience limited leg room, the riding area is approximately 6 feet and guests sit in between each others legs.
Please Note: While we are typically on toboggan sleds from the end of December until mid-March, your musher may use a rolling dog sleds to conduct your tour if trail conditions permit. Refunds WILL NOT be issued in the event that trail conditions require use of a rolling dog sled.
**After making an online reservation, you will be emailed a confirmation letter that contains driving and parking instructions, a list of items we recommend you wear/bring along and a receipt for your records. If you don't see your confirmation email in your inbox, please be sure to check your spam/junk folder as our automated correspondences get filtered into there frequently.