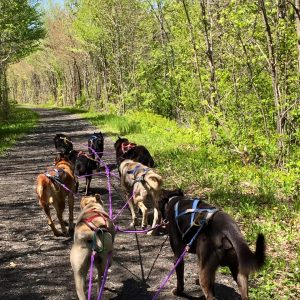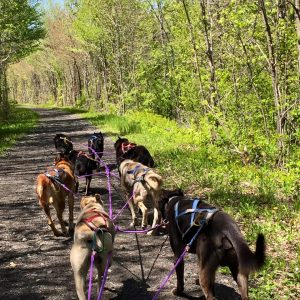 Early Spring Tour
About: This springtime adventure last approximately 1.5 hours and is perfect for those looking to come out of hibernation and enjoy the wonderful world of dog sledding without the snow or cold.
Educational Component: Guests will spend 30 minutes meeting and greeting sled dogs and helping their musher prepare the rolling dog sled which involves harnessing and hitching the team, etc. 
The Ride: Guests will enjoy a ride that covers 5 miles and last approximately 45 minutes (ride time may vary).
Thank Yous: At the end of your experience, you can thank the dogs and say thank you by giving out belly rubs and pats.
Availability: This tour is available daily throughout the month of May at 9:30am temperature and trail conditions permitting (there are a few holiday exceptions). Please note that we require it to be 55 degrees or cooler to conduct the ride portion of this experience. In the event it is too warm during your scheduled departure, you may receive a rolling dog sled ride (if it is 65 degrees or cooler) which cost $55 per person ages 13+ and $50 per person ages 2-12, or a K9 & Kisses experience (if it is warmer than 65) which cost $18 per person and will be refunded accordingly. 
Who Can Participate:
We welcome those ages 2+ for this adventure

All participants under the age of 18 must be accompanied by a parent or guardian at all times

Participants who are pregnant may not participate

Participants who have recently sustained an injury or undergone surgery may not participate
Cost:
$100 per person ages 13+

$80 per person ages 2-12
*Please note that we have a variety of rolling dog sleds that can accommodate 2-4 guests depending on ages and weights (the carts have a 500lbs guest weight limit). In the event your party exceeds 500lbs, multiple carts departing at the same time will be used for the ride component of your experience.*
**After making an online reservation, you will be emailed a confirmation letter that contains driving and parking instructions, a list of items we recommend you wear/bring along and a receipt for your records. If you don't see your confirmation email in your inbox, please be sure to check your spam/junk folder as our automated correspondences get filtered into there frequently.