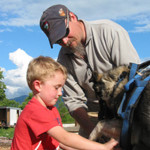 Neil – Founder, Senior Musher & Senior Maine Raft Guide
As born and raised "Mainer", Neil has over 30 years of guiding experience. When he isn't on the river or snow-packed trails, he is in the classroom sharing his knowledge of science. In addition to all these adventures Neil has added a strong love for creating delicious homemade maple syrup. If he were a dog, he would be a Malamute. He may look big and scary but really he is just a gentle giant.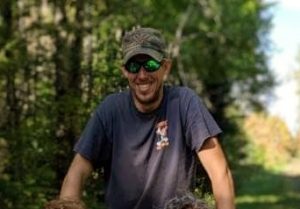 Kasey – Senior Musher & Senior Maine Raft Guide
Kasey is an avid outdoor enthusiast (just like his father, company owner, Neil). After serving in the Army for 5 years, this veteran has returned home to continue his expeditions on the river and in the snow. Kasey is a National Registered EMT-B, firefighter, holds his Wilderness First Aid certification and attended a 2019 Swiftwater Rescue Clinic. When Kasey isn't working, he enjoys catching up on all the latest Night Shift shows and long walks along Old Orchard Beach.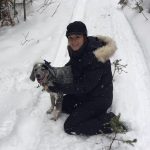 Emma – Reservationist & Office Support
After taking a few years off to start a family, Emma has rejoined the Muddy Paw family. While she fancies herself a Vermonter at heart, she has called NH her home since 2010. Emma graduated from Paul Smith's College in upstate NY back in 2009 with her BS degree in Hotel, Tourism and Resort Management and moved to NH. When she isn't working from home assisting guests with their reservations, she enjoys exploring the outdoors with her cattle dogs and kiddos. As a mother to a 3 year old toddler and 1 year old twins, she is also an avid coffee lover.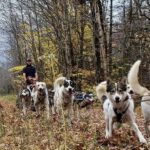 Garrett – Musher
Garett is an outdoor lover from small town Maine. After graduating from Unity College with a degree in Adventure Therapy, he moved to Utah to explore the West – but you couldn't keep him out of New England for long! He moved to New Hampshire with his wife in 2019 and has been adventuring around The Whites with his dogs since! He's excited to be joining the Muddy Paw team this year, and to tie his love for dogs with his love for getting outside.