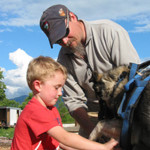 Neil – Founder, Musher & Raft Guide
As born and raised "Mainer", Neil has over 23 years of guiding experience. When he isn't on the river or snow-packed trails behind a team of sled dogs, he is in the classroom sharing his knowledge of science. If he were a dog, he would be a Malamute. He may look big and scary but really he is just a gentle giant.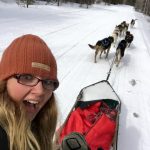 Brianna – Kennel Manager & Musher
Brianna joined the Muddy Paw team while still in high school, fast-forward four years and can be found snuggling with one of her many favorite sled dogs while also tackling a her business degree. If she were a dog, she would be a Pit Bull because they are smart, loyal and loving.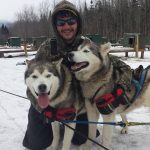 Wes – Senior Musher & Raft Guide
Born and raised in the White Mountains, Wes is a true local. When he isn't embarking on an epic dog sledding adventure or hitting the rapids during the warmer months, he can be found napping and catching up on his beauty sleep. If he were a dog, he would be a Great Dane since he is so tall and goofy (and loves naps).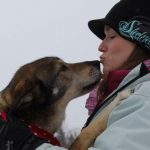 Emma – Office Manager
AKA "the girl I spoke to earlier" is prepared to answer all your dog sledding and rafting questions! When Emma isn't answering the phone or responding to emails, she can be found playing with her Australian Cattle dogs. If she were a dog, she would be an Australian Cattle dog of course. Why? Because they are extremely stubborn and refuse to give up until they get what they want.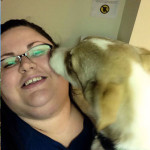 Jaime – Reservationist
When she isn't in the office helping you arrange the perfect outdoor adventure, Jaime can be found tending to her pet sea monkeys or reading Tarot cards for the sled dogs at the kennel. It has been said that Jaime knew she was going to work for us 2 weeks before her first interview! If she were a dog, she would be a Newfoundland because of their calm disposition and gentle nature. Plus they have awesome hair!