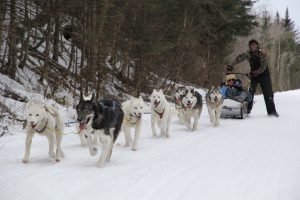 1.5 Hour Tour
Our Most Popular Adventure!
About: This is an introductory dog sledding adventure open to those ages 2+. This experience last about 1.5 hours from start to finish. For the first 30 minutes or so, guests will be able to meet and greet the sled dogs, see where they live, pat them and can even help their musher(s) prepare the doggies for the trail. Once the doggies and sled are prepared, guests will then embark on a 5 mile/45 minute ride (ride time varies depending on guest weights, trail conditions and the doggies pulling the sled). The mushers always try to leave 10-15 minutes at the end for guests to say thank you to the sled dogs by giving out belly rubs for a job well done.
Availability: 
This tour departs most Tuesdays – Sundays starting December 15th through March 17th (trail conditions permitting). There are a few holiday and vacation week exceptions.

This tour takes place at 9:30, 11:30 & 2:30 
Who Can Participate:
We welcome those ages 2+ for this adventure

All participants under the age of 18 must be accompanied by a parent or guardian at all times

Participants who are pregnant

may not

participate
Participants who have recently sustained an injury or undergone surgery

may not

participate
Costs:
$325 per standard sled (2 guests/340lbs maximum)

$350 per standard sled with a 3rd rider (3 guests/340lbs maximum). Please note that this option is geared towards 2 adults and a child or 1 adult and 2 children. While 3 adults may meet the weight limit, leg room may be tight (there is approximately 6 feet of "sitting area" and guests sit in between each other's legs).

$350 per standard sled using an extended team (2 guests/400lbs maximum, no 3rd rider option)  

There is an additional $50 up-charge for departures scheduled during holidays and vacation weeks
Please Note: that while we are typically able to use the toboggan-style sleds from the end of December until mid-March, we may use a rolling dog sled to conduct your tour if required by the trail conditions. Refunds ARE NOT issued in the event that trail conditions require use of a rolling dog sled.
*After making a successful online reservation, an automated confirmation letter is sent out immediately. This confirmation letter contains driving and parking instructions, a list of items we recommend you wear/bring along and a receipt for your records. If you don't see a confirmation email in your inbox, please be sure to check your spam/junk folder as our automated messages get filtered into there frequently these days (this is especially important for Gmail users to take note of as we almost always get put into the junk folder).*