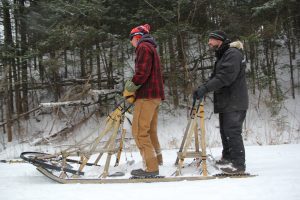 Musher For A Minute – Learn How To Mush!

 
FINISHED FOR WINTER 2018
About: This is a 1.5 hour crash course in the art of mushing and is open to those ages 12+. This tour is geared towards guests who really want to get into the nuts and bolts of modern dog sledding. 
Educational Component: Guests will spend 30 minutes covering all the details of what it takes to prepare the sled dogs and sled for the trail. 
The Ride: Guests will hit the trail using a double driver sled (which is kind of like the dog sledding version of a driver's ed car) for approximately 5 miles/50 minutes (ride time may vary based on: the weights of the participants, trail conditions and the doggies pulling the sled). During this time guests will learn their Gees and Haws and practice the #1 rule of dog sledding, NEVER LET GO, with the assistance of a musher for guest and dog safety of course!
Thank Yous: As always, the mushers try to leave some time at the end for guests to share treats with the sled dogs, get photos and give belly rubs.
Availability: This tour departs most Tuesdays – Sundays starting December 16th and goes until the end of March (trail conditions permitting). There are a few holiday and vacation week exceptions. This tour departs at 9:30, 11:30, 2:00 & 4:00.
Who Can Participate:
We welcome those ages 12+ for this adventure

All participants under the age of 18 must be accompanied by a parent or guardian at all times

Participants who are pregnant

may not

participate
Participants who have recently sustained an injury or undergone surgery

may not

participate
Cost:
$375 per sled which will accommodate a maximum of 2 guests/340lbs. 
Please Note: We have 1 double driver sled and are therefore only able to accommodate a maximum of 2 guests per time-slot for this adventure. Also please note that while we are typically on toboggan sleds from the end of December until mid-March, your musher may use a rolling dog sleds to conduct your tour if trail conditions permit. Refunds WILL NOT be issued in the event that trail conditions require use of a rolling dog sled.
**After making an online reservation, you will be emailed a confirmation letter that contains driving and parking instructions, a list of items we recommend you wear/bring along and a receipt for your records. If you don't see your confirmation email in your inbox, please be sure to check your spam/junk folder as our automated correspondences get filtered into there frequently.