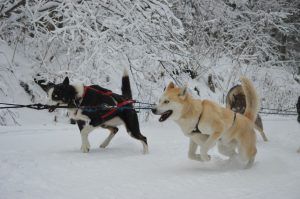 Mini Mush
A Cost Cutting Option For Families & Groups
** CONCLUDED FOR THE WINTER **
About: This experience is a modified version of our popular 1.5 hour tour and is open to those ages 2+. On our standard 1.5 hour tour, we accommodate a maximum of 3 guests/340lbs per sled and go on a 5 mile ride. On this tour, we can accommodate a maximum of 6 guests/680lbs per sled because party members take turns going on a 2.5 mile ride. This tour still starts with 30 minutes of dog time and as always, 10-15 minutes is left at the end to say thank you to the doggies for a job well done. To help better explain how this tour works we have put together a scenario below comparing our 1.5 hour adventure and our Mini Mush adventure  …
1.5 HOUR TOUR EXAMPLE -> Family of 4 (2 adults 2 children). 30 minute meet and greet, 2 sleds going out at the same time on a 5 mile/50 minute ride, with 10-15 minutes at the end to say thank you to the sled dogs. Cost approximately $650 ($325 per sled).
ON THIS MINI MUSH TOUR -> Family of 4 (2 adults and 2 children). 30 minute meet and greet, 1 sled goes out with 2 family members on a 2.5 mile/25 minute ride (during this time the other 2 family members will drive to the nearby trail turnaround) at the halfway trail turnaround, riders swap places and the other 2 family members ride 2.5 miles / 25 minutes back, with 10-15 minutes at the end to say thank you to the sled dogs. Cost $425.
As you can see from the example provided above, this tour can be a good cost cutting option for families and groups but the trade-off is that guests are not out riding at the same time together or on the trail for a long.
Availability:
This tour departs most Tuesdays – Sundays starting December 15th and goes until March 17th (trail conditions permitting). There are a few holiday and vacation week exceptions.

This tour takes place at 9:30, 11:30 & 2:30
Who Can Participate:
We welcome those ages 2+ for this adventure

All participants under the age of 18 must be accompanied by a parent or guardian at all times

Participants who are pregnant

may not

participate
Participants who have recently sustained an injury or undergone surgery

may not

participate
Cost:
$425 per sled (6 guests/680lbs maximum).

There is an additional $50 up-charge when reserved during peak times (holidays and vacation weeks).

Again, guests will be splitting up into 2 smaller groups and taking turns going on a shorter ride using 1 sled. Your group needs to be able to split up into two groups of no more than 3 guests/340lbs. Please note that 3 riders is geared towards parties with children. While 3 adults may meet the weight limit, leg room may be tight (there is approximately 6 feet of "sitting area" and guests sit in between each other's legs). 
Is it your first time riding in a touring dog sled? Below is a video of what you can expect.
Please Note: that while we are typically able to use the toboggan-style sleds from the end of December until mid-March, we may use a rolling dog sled to conduct your tour if required by the trail conditions. Refunds ARE NOT issued in the event that trail conditions require use of a rolling dog sled.
*After making a successful online reservation, an automated confirmation letter is sent out immediately. This confirmation letter contains driving and parking instructions, a list of items we recommend you wear/bring along and a receipt for your records. If you don't see a confirmation email in your inbox, please be sure to check your spam/junk folder as our automated messages get filtered into there frequently these days (this is especially important for Gmail users to take note of as we almost always get put into the junk folder).*