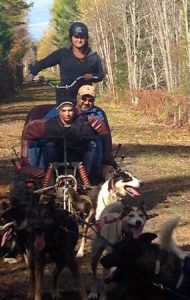 Musher For A Minute – Learn How To Mush! 
About: This is a 1.5 hour crash course in the art of mushing and is open to those ages 12+. This tour is geared towards guests who really want to get into the nuts and bolts of modern dog sledding.
Educational Component: Guests will spend 30 minutes covering all the details of what it takes to prepare the sled dogs and sled for the trail.
The Ride: Guests will hit the trail for approximately 5 miles/45 minutes (ride time may vary based on: the weights of the participants, trail conditions and the doggies pulling the sled). During this time guests will learn their Gees and Haws and practice the #1 rule of dog sledding, NEVER LET GO, with the assistance of a musher for guest and dog safety of course!
Thank Yous As always, the mushers try to leave some time at the end for guests to say thank you to the sled dogs by giving out belly rubs and sharing pats.
Availability: This tour is available daily starting mid-September through November. This tour departs daily at 9:00am, 12:00pm and 3:00pm by reservation (trail conditions and temperatures permitting). Please note that we require it to be 55 degrees or cooler to conduct the ride portion of this experience. In the event it is too warm during your scheduled departure, you may receive a rolling dog sled ride (if it is 65 degrees or cooler) which cost $55 per person ages 13+ and $50 per person ages 2-12, or a K9 & Kisses experience (if it is warmer than 65) which cost $18 per person and will be refunded accordingly. 
Who Can Participate:
We welcome those ages 12+ for this adventure

All participants under the age of 18 must be accompanied by a parent or guardian at all times

Participants who are pregnant may not participate

Participants who have recently sustained an injury or undergone surgery may not participate
Cost: $150 per person
*Please note that we have a variety of rolling dog sleds that can accommodate 2-4 guests depending on ages and weights (the carts have a 500lbs guest weight limit). In the event your party exceeds 500lbs, multiple carts departing at the same time will be used for the ride component of your experience.*
**After making an online reservation, you will be emailed a confirmation letter that contains driving and parking instructions, a list of items we recommend you wear/bring along and a receipt for your records. If you don't see your confirmation email in your inbox, please be sure to check your spam/junk folder as our automated correspondences get filtered into there frequently.